Dragon Age: Inquisition is Bioware's latest release that manages to bring the excitement back in its RPG franchise. Find out more in this article.
While I heard good things about the first title, I only had the opportunity to start playing the game with the release of Dragon Age II. Unfortunately, I did not find it as engaging as, well, another Bioware RPG series: Mass Effect. Why? The world then was small, limiting options for exploration, and combat was strictly action oriented. The latest title manages to improve some more.
The game starts  some time right after the end of Dragon Age II, with the Chantry calling for a meeting with the Mages and Templar factions in order to end the war that was brought about by the events in the previous game. The player picks out his chosen race of: humans, elf, dwarf and qunari (each with backgrounds that tie into the story), and class. Something happens which leave the player character, the Inquisitor, as the sole survivor and having the ability to close Rifts that have opened after the event. The player is now tasked to stop the spread of the rift at the meeting place, determine who plotted the event and build alliances and army to thwart the oncoming threat.
Graphics: Fof DA:I, the dev team now use Dice's Frostbite 3 game engine (similar to Battlefield 4) to give better environment and graphical quality. Water, Shadows and lighting improved greatly. Depending on the computer's graphics card, expect lush vegetation and wide expanses teeming with scattered bits an pieces throughout the game world. While graphics has improved a lot more than the last, there's some graphical glitch here and there at some point.
Gameplay: This is where most of the improvements were made. Crafting was updated in DA:I. Players can now collect other materials such as metal, leather and cloth to create custom weapons and armor. These weapons and armor can be equipped by anyone in the Inquisitor's companions. A war table has been added, and from here the Inquisitor can respond to requests/missions, as well as open up new areas to explore, or move the story along. There are advisors (non companion characters), most would be familiar to the player that handles specific (military/espionage/diplomacy) response to any board mission. Players would now have a Castle/town called Skyhold, which will serve as their main base of operations. It will have shops, offices, and blacksmith that will aide in his/her quests. Skyhold will also let us interact with other characters and progress romance with some.
Fighting monsters / enemies / Dragons have been improved with the introduction of the Tactical Map. Here, players can command individual units to perform specific tasks, unlike the usual AI driven actions made by the companions during a fight. This adds a little bit more tactical feel to the game. Aside from being able to craft custom equipment, players now have a better managed Skill Tree than before, letting us customize our play style.
Quests are plentiful. Some involves basic hacking and slashing while others may require thinking or utilizing the Inquisition manpower to solve. It lessens the repetition somewhat and keeps players attention. As a staple of the series, there are quests to develop your companion's role in the story and some would lead to their redemption or death. While others would aid the Inquisitor in courting his/her romance partner.
An addition to the gameplay is the inclusion of a multiplayer coop. This plays similar to Mass Effect 3's Cooperative mode, however it does not affect the single player game's final performance, unlike ME3's (higher readiness % nets a better ending). Unlike ME3's wide array of characters to build, DA:I's multiplayer roster for now is limited.
Dragons in DA:I are plenty, 10 of them to be exact. Hunting them is exciting, not knowing how long can the party will last as some dragons use different elements/tactics in fighting. The rewards of slaying a dragon is also worth it, being able to stock up on Dragon bones for crafting the best weapons and armor in the game.
Hands down, Dragon Age: Inquisition was RPG to beat in 2014.
Rating: 9/10
11/18/2014, Gigabyte Technology Co. Ltd. has announced the newest edition for its Gaming line of motherboards, the X99M-Gaming 5, a compact motherboard for the X99 Intel Chipset with support for Core i7 Extreme Edition processors (Haswell-E).
Being a motherboard with a smaller form factor doesn't mean it lacks the features as its bigger brethren. The following are included:
Two Way Graphics Support
Gigabyte AMP-UP Audio Technology
Realtek ALC 1150 115db SNR Audio with built in Real Audio Amplifier
Upgradeable OP-AMP
High End Audio Capacitors
Quad USB DAC-UP
Gold Plated Audio Hardware
Ambient LED
Killer Networking
Quad Channel DDR4
Genuine All Digital Power Design
IR Digital PWN and IR PowlRstage ICs
Server Level Chokes by Cooper Bussman
Long Lifespan Durable Black Solid Capacitors
Dual M.2 Technology for SSD Drive and WIFI Card
Next Gen SATA Connector (SATA Express)
Intel Core i7 Extreme Edition CPUs
To know more, go to: http://www.gigabyte.com/products/product-page.aspx?pid=5221
Watch Dogs was one of the more awaited video games to have been released over the spring of 2014. To much fanfare, it seemed everything was going well until buyers got the game on release. This review's have been months in the making, playing through the game and getting the DLCs in as well as the graphic mod to put the game's quality up to par with the E3 Demo.
Graphics wise, once the Worse Mod was added, it would provide a very next-gen (now current-gen) graphics. It's quite taxing on my 650GTX video card though, so I'd advise getting something beefier (make your processor runs on an i5 at least to even go faster).  Without the mod however, provides a quality akin to an updated GTA IV graphics with a (very) tad bit of iCEnhancer thrown in for good measure.
There's a lot of detail Ubisoft tried to cram in to the city of Chicago to make it look like the city's complete. Still, we're limited to the core Chicago metropolitan area and a small part of the suburbs to balance out the environment. That makes for a short drive around the city.
Being an Ubisoft title, some features found in their games made its way in Watch Dogs. Here they are based on what I've seen thus far:
- Shooting Mechanics are like Ghost Recon Future soldier / Splinter Cell
- Parkour (minimal in Watch Dogs) as Assassin's Creed
- Instant takedowns, Assassin's Creed
- Templars from Abstergo, Assassin's Creed
- Driving's kind of new for me for an Ubi Game, but control could be a bit tighter especially with most of their cars
- Map navigation, Assassin's Creed
All in all, majority of the game's a modernized Assassin's Creed, yes? Which can be a good thing as it tried meshing together the best of Ubi's titles into one game.
Now the common game mechanic's out of the way, Let us focus on the story. We have Aiden Pearce, a freelance hacker/vigilante who can override the Chicago's IT controlled infrastructure, from cameras, bollards, traffic lights, steam pipes, transformers to even causing blackouts. This is where the game shines, but also fails at some point. It makes some parts of the game seem too easy at times, and others overly difficult. Like
Going back to the story, Aiden's last job as a hacker turned bad when he was ambushed by some hired bikers by the owner of the hotel/casino he hacked, killing his niece. Afterwards, he adopted the role of a vigilante, stopping anyone breaking the law and investigating into the one responsible for masterminding the attack on his family.
The game attempted to put in the best elements of Ubisoft titles and tried making a bigger world than Assassins Creed, however there are some roadblocks in making it succeed (focus on the finishing/polishing department and some bugs here and there make it a so-so game, but still merits some compliment with the creators' vision.
Rating: 8/10
*This was supposed to have been posted several months back, however due to some family events, I had to postpone posting in my blog for a few months. I'll be back again with another review next time.
A month ago, Gigabyte Philippines invited its close friends to its launch of their new Intel Series 9 boards along with a revamp of their motherboard product line.
A simple gathering was made for the close fans and friends of Gigabyte. The company unveiled the latest Intel 9 Series motherboards along with a revitalized line up offered to consumers.
The following new boards were introduced:
Z97X-SOC and Z97X-SOC Force
These new boards fall under the new Super OverClock (SOC) motherboards and have the following exclusive features:
OC Touch
"GIGABYTE OC Touch includes a range of hardware overclocking buttons directly on the motherboard, making overclocking on the fly extremely fast and easy. The design philosophy behind OC Touch is simple; to help enthusiasts and overclockers not only get the most performance from their hardware, but also the absolute most enjoyable OC experience".
OC Ignition
"OC Ignition maintains power to the motherboard and connected components while the system is shut down. This means that system fans will continue to provide airflow in cold bug situations, while i-ram drive users will not lose installed data. OC Ignition also allows users to pre-test water cooling setups, and allows case mod demonstrations without having to turn on the PC."
OC DIMM and OC PCIe Switch
"Manually turn on or off each channel of installed memory DIMMs, allowing users to effortlessly disable memory DIMMs from the system without the hassle of physically removing. Overclockers can manually turn on or off each installed PCIe lane of the motherboard, allowing users to disable individual graphics cards without physically removing. This is especially useful when overclocking on LN2 and water cooled systems."
OC Brace
"OC Brace allows extreme overclockers and system testers to safely install up to four graphics cards in an open case or test bed without risking PCIe slot damage or preventing cards not showing up in the OS due to poor contact with PCIe slot. OC Brace is a simple and elegant way to give robust installation support to full sized graphics cards in extreme multi-GPU configurations."
Premium Graphics Support
"GIGABYTE 9 series overclocking motherboards feature optimized support for AMD CrossFire™ in 4 way configuration plus support for Nvidia SLI technology in 2-way setups. This extreme design allows a more optimized multiple-card overclocking experience where the first 3 slots have the data bandwidth available from trace paths direct from the CPU and the fourth slot taking PCIe lanes from the Intel® Z97 PCH."
OC Peg
"OC PEG adds auxiliary power to the PCIe slots of your motherboard, improving system stability in extreme configurations. This is especially useful in power-hungry 4-way graphics configurations."
OC Connect
"OC Connect positions two USB connectors on the near side of the motherboard facing the overclocker. This makes it easier to save data, flash the BIOS or install software in open bench testing platforms whether for extreme overclocking or simply pretesting the PC before final component installation inside a case scenarios where accessing the rear panel I/O can be an inconvenience."
G1 Series Gaming Motherboards
The latest iteration of the G1 series by Gigabyte drops the green and black look for a hotter and meaner red and black color scheme.  The variations of the gaming boards increased significantly leading to this list:
While the list of motherboards has grown significantly, here's a quick comparison of these to help determine which board best suits a gamer
http://www.gigabyte.com/products/comparison/list.aspx?ck=2&pids=4959,4956,4980,4963,4966,4968,4969
While I constantly blog about video games in general (and peripherals), I'm here to write something different this time around – about Video Game Graphic Novels. While we do enjoy playing out as the heroes/heroines of our games, we do sometimes find something missing with the games, like some plot's that's unclear, or how did a particular character survive. That's where novels or more popular now, Graphic Novels come in.
These books seek to bridge the gap between sequels, uncover more of the video game's back story, especially if it has a very wide reaching plot. They tell the other character's side stories outside of what we are able to see while playing.
Two particular examples I have in mind and discussed in this article would be Halo and Mass Effect. These two series have a significant following from gamers and have inspired writers and artists to further expand the world by further developing it with side stories in the form of fiction. One of these outputs ended up as Graphic Novels.
The Halo Graphic Novel originally started as a way to expand the franchise. The objective of the project was rather than rehashing or focusing on the game's Master Chief, the artists focused on the world around the Chief – the Covenant Elites, Sergeant Johnson, and civilians caught in the conflict.
The result of the project was a big success and further stories were made and released as single issue comic books and completed graphic novels. The stories spanned from other events happening while the players have gone through Halo: CE (The Last Voyage of the Infinite Succor) and ties in well with Halo 2's introduction of the Arbiter's Lieutenant, Rtas 'Vadumee, how and who tested the Chief's Mk VI armor (Armor Testing) to a background story of ODSTs Mikey and Romeo (Bloodlines) from Halo: ODST, as well as other Spartans (Bloodlines). While the original publisher of the Halo Graphic Novel was Marvel, it has since changed hands to Dark Horse, another company whose previous releases were for the Star Wars series of graphic novels (original/prequel and expanded universe).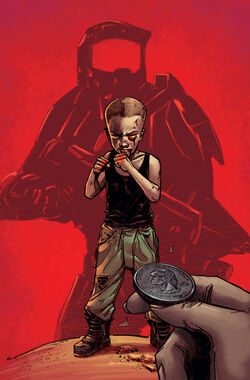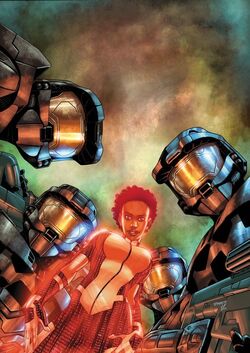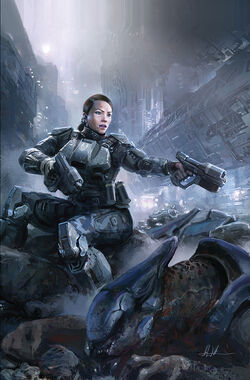 Dark Horse is quite a graphic novel publisher, taking on popular licenses and publishing them and similar to their recently acquired license to publish Halo Graphic Novels (focusing on Halo 4 topics), Dark Horse also publish the Mass Effect comics series. Recently, they have collected a hefty list of their comics and released it in a super-sized omnibus (collection) called Mass Effect Library Edition.
Collected in this massive (it is indeed massive in size) hardbound book are several comic series detailing stories of Shepard's allies and enemies origins (particular one Jack Harper). These are sides stories that provided context as to how some of the events in the Mass Effect Video Game came to be. Some involve how Shepard's body arrived at the Cerberus Project Lazarus station, or how Aria lost Omega, etc.
There are more comics / graphic novels relating to video games out there, and I'll try to cover and review them as they come by.
EA released the latest Need for Speed title last year called Rivals. Rivals is more of a rehashed game of Need for Speed: Hot Pursuit, with some improvements with gameplay thrown in.
The game is set in the county of Redview, which is best described to resemble after the southern California / Arizona / Colorado area. It's broken down by a coastline and small town at the north-north west section followed by heavily forested areas in the eastern section of the map. The central area have plains for farmlands and groves and a lake with an under construction bridge connecting the north and south sides directly. The lower middle and southwest section have a dry desert area and the south east side has an icy mountain. There are no urban areas like that found in Most Wanted or Undercover.
The player can choose sides, either play as a racer or play as a cop and is able to switch between careers to provide a way for the player to stay engaged while playing. Unlike Hot Pursuit before, the career mode has a story based on the sides played. Challenges posted allow players to progress in the game, be able to acquire new cars and pursuit options. Playable events differ from each career. Racers have race-centric matches while cops have to perform time trials, interception and hot pursuit of suspects.
Comparing it with Hot Pursuit, changes were made to the number of equipment available for racer and cops. Now called 'Pursuit Techs' these equipment help in escaping/capturing cops and racers alike. Cops now have Shock Rams and Spike Strips (exclusive) added to the existing set of Helicopter and Roadblock support. Racers have Shockwave, and Stun Mine added aside from the existing Turbo and Jammer and lost the Spike Strips. Both of them have Electro Static Field added.
Modes of play are still retained, making it familiar to returning Hot Pursuit players. Racers have races, time trials, head to head challenges and interception races. Cops again have rapid response, interception and hot pursuit. Nothing much changed there.
The only major difference with the game from the previous would be the list of cars. Ferrari makes a comeback to the series after several years of absence, and is available for both cops and racers.
DLC-wise several packs were released, one of these includes the cars from the Need for Speed Movie, they were able to stretch the game up until the movie's release. Nice job EA, I suppose.
Verdict:
I applaud EA for finally putting Ferrari back to the franchise and utilizing the awesome frostbite 3 engine. While it takes a while getting used to playing on a much smaller map and lacking urban sceneries. A hot pursuit style game it still is and coupled with some improvements in the Pursuit Tech, makes it more a fun game.
Score 8/10