A month ago, Gigabyte Philippines invited its close friends to its launch of their new Intel Series 9 boards along with a revamp of their motherboard product line.
A simple gathering was made for the close fans and friends of Gigabyte. The company unveiled the latest Intel 9 Series motherboards along with a revitalized line up offered to consumers.
The following new boards were introduced:
Z97X-SOC and Z97X-SOC Force
These new boards fall under the new Super OverClock (SOC) motherboards and have the following exclusive features:
OC Touch
"GIGABYTE OC Touch includes a range of hardware overclocking buttons directly on the motherboard, making overclocking on the fly extremely fast and easy. The design philosophy behind OC Touch is simple; to help enthusiasts and overclockers not only get the most performance from their hardware, but also the absolute most enjoyable OC experience".
OC Ignition
"OC Ignition maintains power to the motherboard and connected components while the system is shut down. This means that system fans will continue to provide airflow in cold bug situations, while i-ram drive users will not lose installed data. OC Ignition also allows users to pre-test water cooling setups, and allows case mod demonstrations without having to turn on the PC."
OC DIMM and OC PCIe Switch
"Manually turn on or off each channel of installed memory DIMMs, allowing users to effortlessly disable memory DIMMs from the system without the hassle of physically removing. Overclockers can manually turn on or off each installed PCIe lane of the motherboard, allowing users to disable individual graphics cards without physically removing. This is especially useful when overclocking on LN2 and water cooled systems."
OC Brace
"OC Brace allows extreme overclockers and system testers to safely install up to four graphics cards in an open case or test bed without risking PCIe slot damage or preventing cards not showing up in the OS due to poor contact with PCIe slot. OC Brace is a simple and elegant way to give robust installation support to full sized graphics cards in extreme multi-GPU configurations."
Premium Graphics Support
"GIGABYTE 9 series overclocking motherboards feature optimized support for AMD CrossFire™ in 4 way configuration plus support for Nvidia SLI technology in 2-way setups. This extreme design allows a more optimized multiple-card overclocking experience where the first 3 slots have the data bandwidth available from trace paths direct from the CPU and the fourth slot taking PCIe lanes from the Intel® Z97 PCH."
OC Peg
"OC PEG adds auxiliary power to the PCIe slots of your motherboard, improving system stability in extreme configurations. This is especially useful in power-hungry 4-way graphics configurations."
OC Connect
"OC Connect positions two USB connectors on the near side of the motherboard facing the overclocker. This makes it easier to save data, flash the BIOS or install software in open bench testing platforms whether for extreme overclocking or simply pretesting the PC before final component installation inside a case scenarios where accessing the rear panel I/O can be an inconvenience."
G1 Series Gaming Motherboards
The latest iteration of the G1 series by Gigabyte drops the green and black look for a hotter and meaner red and black color scheme.  The variations of the gaming boards increased significantly leading to this list:
While the list of motherboards has grown significantly, here's a quick comparison of these to help determine which board best suits a gamer
http://www.gigabyte.com/products/comparison/list.aspx?ck=2&pids=4959,4956,4980,4963,4966,4968,4969
While I constantly blog about video games in general (and peripherals), I'm here to write something different this time around – about Video Game Graphic Novels. While we do enjoy playing out as the heroes/heroines of our games, we do sometimes find something missing with the games, like some plot's that's unclear, or how did a particular character survive. That's where novels or more popular now, Graphic Novels come in.
These books seek to bridge the gap between sequels, uncover more of the video game's back story, especially if it has a very wide reaching plot. They tell the other character's side stories outside of what we are able to see while playing.
Two particular examples I have in mind and discussed in this article would be Halo and Mass Effect. These two series have a significant following from gamers and have inspired writers and artists to further expand the world by further developing it with side stories in the form of fiction. One of these outputs ended up as Graphic Novels.
The Halo Graphic Novel originally started as a way to expand the franchise. The objective of the project was rather than rehashing or focusing on the game's Master Chief, the artists focused on the world around the Chief – the Covenant Elites, Sergeant Johnson, and civilians caught in the conflict.
The result of the project was a big success and further stories were made and released as single issue comic books and completed graphic novels. The stories spanned from other events happening while the players have gone through Halo: CE (The Last Voyage of the Infinite Succor) and ties in well with Halo 2's introduction of the Arbiter's Lieutenant, Rtas 'Vadumee, how and who tested the Chief's Mk VI armor (Armor Testing) to a background story of ODSTs Mikey and Romeo (Bloodlines) from Halo: ODST, as well as other Spartans (Bloodlines). While the original publisher of the Halo Graphic Novel was Marvel, it has since changed hands to Dark Horse, another company whose previous releases were for the Star Wars series of graphic novels (original/prequel and expanded universe).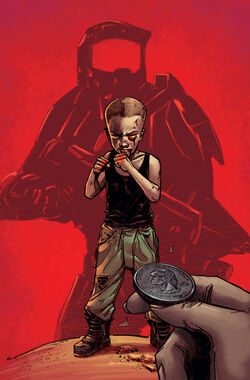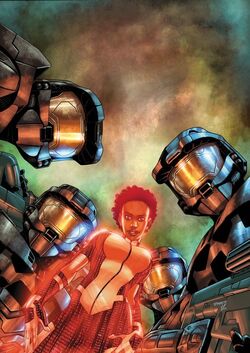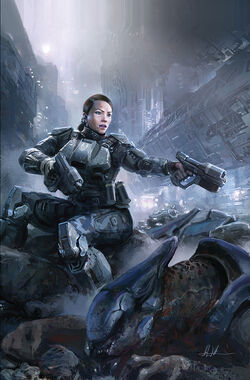 Dark Horse is quite a graphic novel publisher, taking on popular licenses and publishing them and similar to their recently acquired license to publish Halo Graphic Novels (focusing on Halo 4 topics), Dark Horse also publish the Mass Effect comics series. Recently, they have collected a hefty list of their comics and released it in a super-sized omnibus (collection) called Mass Effect Library Edition.
Collected in this massive (it is indeed massive in size) hardbound book are several comic series detailing stories of Shepard's allies and enemies origins (particular one Jack Harper). These are sides stories that provided context as to how some of the events in the Mass Effect Video Game came to be. Some involve how Shepard's body arrived at the Cerberus Project Lazarus station, or how Aria lost Omega, etc.
There are more comics / graphic novels relating to video games out there, and I'll try to cover and review them as they come by.
EA released the latest Need for Speed title last year called Rivals. Rivals is more of a rehashed game of Need for Speed: Hot Pursuit, with some improvements with gameplay thrown in.
The game is set in the county of Redview, which is best described to resemble after the southern California / Arizona / Colorado area. It's broken down by a coastline and small town at the north-north west section followed by heavily forested areas in the eastern section of the map. The central area have plains for farmlands and groves and a lake with an under construction bridge connecting the north and south sides directly. The lower middle and southwest section have a dry desert area and the south east side has an icy mountain. There are no urban areas like that found in Most Wanted or Undercover.
The player can choose sides, either play as a racer or play as a cop and is able to switch between careers to provide a way for the player to stay engaged while playing. Unlike Hot Pursuit before, the career mode has a story based on the sides played. Challenges posted allow players to progress in the game, be able to acquire new cars and pursuit options. Playable events differ from each career. Racers have race-centric matches while cops have to perform time trials, interception and hot pursuit of suspects.
Comparing it with Hot Pursuit, changes were made to the number of equipment available for racer and cops. Now called 'Pursuit Techs' these equipment help in escaping/capturing cops and racers alike. Cops now have Shock Rams and Spike Strips (exclusive) added to the existing set of Helicopter and Roadblock support. Racers have Shockwave, and Stun Mine added aside from the existing Turbo and Jammer and lost the Spike Strips. Both of them have Electro Static Field added.
Modes of play are still retained, making it familiar to returning Hot Pursuit players. Racers have races, time trials, head to head challenges and interception races. Cops again have rapid response, interception and hot pursuit. Nothing much changed there.
The only major difference with the game from the previous would be the list of cars. Ferrari makes a comeback to the series after several years of absence, and is available for both cops and racers.
DLC-wise several packs were released, one of these includes the cars from the Need for Speed Movie, they were able to stretch the game up until the movie's release. Nice job EA, I suppose.
Verdict:
I applaud EA for finally putting Ferrari back to the franchise and utilizing the awesome frostbite 3 engine. While it takes a while getting used to playing on a much smaller map and lacking urban sceneries. A hot pursuit style game it still is and coupled with some improvements in the Pursuit Tech, makes it more a fun game.
Score 8/10
Online Contest Gives Consumers a Cloud of Their Own
February 28, 2014 – WD® in Philippines is pleased to announce its Facebook contest entitled, Save Your
Moments on Your Personal Cloud with WD® Photo Contest. This contest is open to all Filipino residents
18 years old and above.
Everyone is inundated with thousands of digital files scattered across multiple computers and mobile
devices. WD My Cloud™ is a complete solution for users to organize, centralize and save the digital
content, and access those files from any device, from anywhere in the world. With direct file uploads
from mobile devices, important files and videos can be safely moved to My Cloud, freeing up valuable
space on users' tablets and smartphones.
Beginning from 28 February, 2014, consumers can follow these simple steps to participate:
• Visit WD Philippines Facebook page at http://www.facebook.com/WDPhilippines and click on the
link to the contest site.
• Upload a photo you most like to keep safe on your Personal Cloud, and write in no more than 30
words, tell us "Why I like to save the photo on WD My Cloud?"
Attractive prizes will be awarded to participants with the best photo and caption:
First Prize: WD My Cloud 4 TB x 1 unit and Apple® iPad Air™ 16 GB Wi-Fi x 1 unit
Second Prize: WD My Cloud 3 TB x 1 unit and ASUS MeMO Pad™ HD 7 16 GB x 1 unit
Weekly Prize: My Passport® Ultra™ 1 TB x 1 unit
More information about WD My Cloud can be found on the company's website at http://wdc.com/en/
products/products.aspx?id=1140
The Lego Movie Videogame ties in pretty well with the movie and manages to fill in some of the gaps that weren't seen in the game, and manages to do it with flair and pure awesomeness.
Spoilers Ahead after this, especially if you haven't seen the movie.
One of the recent games that I got this year was Lego Marvel Super Heroes from TT Games. Being a Lego game, expect some fun and wacky humor and surprises within.
After Lego's forays with their licensed products starting with Lego Star Wars (which I think I reviewed years ago) and released to the PC under the former Games for Windows line. Recent releases included The Lord of the Rings Trilogy, Lego City (for consoles), and most recently, DC Superheroes.
With Marvel Super Heroes, Lego has made a game that exclusively features the characters they have thus far released in mini figure form. Factions such as the Avengers, Fantastic Four, X-Men, are included as well as some of their allies (some of these were released in limited edition packs in Comic Con, so having them is a treat in itself), and of course the Villains.
Disclaimer: I haven't played the DC Superheroes game, and while I do have the LOTR Trilogy, I have yet to open it.
Gameplay:
Being a Lego game, some elements involve some assembly with Lego bricks. Each character in the game have their own skillsets. Some like Iron Man (and his different suits) have varying abilities. Characters like the Hulk can transform or use his strength to break objects. Spiderman can use his webs to pull objects and stick to walls, and Magneto is able to manipulate 'metal' bricks, and lots more.
The game has its storyline revolving around Galactus' pending arrival, and the villains grouping together, collecting cosmic bricks (which was silver surfer's board being broken up on his appearance). Mini-games are abound some involving races, puzzles and the hilarious Stan Lee in Peril missions where we would rescue Stan Lee in various… situations he's placed in. Other missions involve collecting all of the characters and vehicles. Other missions include Iron Man's House Party Protocol, and Doc Ock and Agent Coulson teaming up to clean the Daily Bugle.
Speaking of vehicles, this is the first* time I have played a Lego title that involved free play that required riding vehicles. Cars, boats and planes are abound in this game, and can be used for travel, or combat. Some examples include: Cars, Boats, Bikes, SHIELD Fighters, Tanks, the X-Men's Blackbird, Fantasti-car, and not to mention Tony Stark's Jet.
The environment is quite big for a Lego Game, easily beating the Mos Eisly Cantina in the Lego Star Wars Trilogy. The SHIELD Heli-carrier is in the game too, serving as the Launchpad to some of the storyline missions. levels are cleverly made/designed, utilizing the current pick of characters to solve puzzles with. Once a level is completed, we can go back in free play mode and use other characters to cover the areas that were initially inaccessible.
Combat involves fighting off henchmen melee or ranged, depending on the current character used. In some end levels, a boss battle. Boss Battles were creatively made, making the players rely on the environment to build weapons or devices that distract or weaken a boss in order to be beaten by us.
Verdict:
All in all, it's a fun game with lots to see/doo/collect/build. In between missions are cut scenes that have the well known Lego humor mixed in to appeal to everyone. There's a balance of action and narration, plus some puzzles to give a breather between fights. There's a ton of characters to collect, as well as vehicles. There are lots of golden bricks to find and earn through side missions or side quests from the citizens of the city.
Some of the letdowns involve the control scheme, some characters that transform (ie Spiderman) have difficulty swapping to another character due to the transformation button being the same button that pulls the player switch menu. This has been fixed in the Lego Movie Video Game (review coming right up after this). Another let down is that there seems to be a bias with Iron Man's capability, I find it unbalanced, tending to be on the strong side, having access to a insta-kill multi missile launcher, his powerful heat ray in his HeartBreaker and mark 42 armor.
I have the digital version, but there was a pre-order bonus for those who bought the physical copy: A Polybag containing the limited edition (not as rare as the classic Iron Man minifigure, but nevertheless collectible) War… err Iron Patriot with his mounting equipment. I'd love to get one of these days, as I've managed to collect most of the Iron Man suits in the game (except for the Classic Iron Man suit, I hear it would cost me around 2x my annual salary to buy it).
Here are some GIFs that I composed from my screen cap session
Rating: 9/10